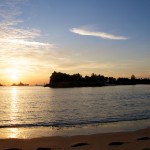 Feel the imported sand between your toes while you lounge under a newly planted palmtree while watching the sun go down between the freighters. Welcome to sentosa island, Singapore.
You can get to Sentosa with monorail but we chose the far more scenic alternative, cable-car. Offering an excellent opportunity to cure Lina's fear of heights. The view of Singapore harbour and Sentosa was stunning but i think we gotta keep working on curing the heights issue, maybe bungee jumping.
Sentosa is the place locals go on weekends to kick back by the beach. It's a conceptual beach resort with zip-lining, rainforest, beaches, surfing and various theme parks. Think, Disneyland but without the plastic, cartoons and magic castle. Sentosa is for the most part man-made but offer a more genuine experience then your average themepark. The wave may be constructed, the sand imported and the palm trees planted, but all in all it feels like your typical beach resort.
Sentosa is a strange place. The schizophrenic scenery leave you with very little comprehension of what's real and what's made up. Feeling like Alice in wonderland in beach setting and with loud tourists instead of mad hatters.
Can you tell if the waterfall is real?
The beaches are beautiful yet bizarre. Perfect white sand, tall palmtrees and the view of endless freighters (!) The azure blue water looks tempting but the pollution is probably massive considering that Sentosa is located near one of the world busiest harbours. But enjoying the view from a deck chair on the beach is truly a one of a kind experience.
Next to the beaches are surfers hitting the man-made waves and some great bars to whip up a Piña Colada. If I knew how to surf i would definietly have given it a try, but i'll save that for next time.
We spent quite a large part of our visit there just walking around in the rainforest. The wildlife isn't that impressive if you compare it to bigger, more genuine rainforests, but in comparison to sweden it's quite exotic, plus, if you're not into hiking it's a great introduction to the greener parts of Asia. If you're lucky (or unlucky) you can encounter monkeys, lizards and the occasional cobra.
The island feels very fabricated, but putting that aside you can have a lot of fun. Perfect for a getaway from the stressful city, providing a bit of relaxation and adventure. If you can deal with the tourists and the Disneyland feeling, by any means, indulge!