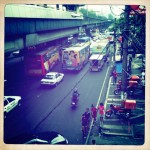 Arriving in Manila after a full day of exploring Dubai on a night flight where I managed to sleep exactly 0 hours. Hungry, thirsty and a severe case of jet lag, the mood could be better. Off to find a bathroom after a surprisingly fast baggage claim, I am greeted by a man excessively waving and smiling as enter the restrooms. Inside I'm greeted with a hearty "Good morning, Sir" "Welcome to Manila, Sir" delivered with one of the biggest smiles I've ever seen. The day just got a little bit better.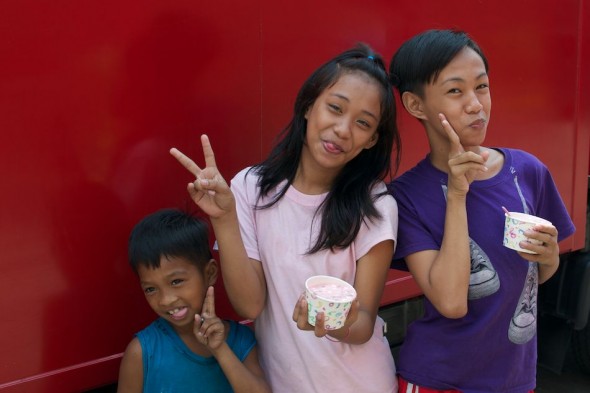 Minutes later we're rushing trough traffic on a cab-ride that make you're stomach feel like you're on a rollercoaster ride the night after a serious binge. The brightly colored  jeepney's, tricycles, busses, pedestrians, all try to make it way trough a steaming rush-hour Manila. The driver speaks rapidly about tips on the city like it's the last day on earth. I try to scribble some tips down on but it's hard to keep up with the pace of the driver non-stop talking and constant banging on the horn, all while trying to navigate the dense traffic. For an hour we go on and on about traveltips, Tagalog-for-dummies, veganism, while trying my best to keeping my "hindu-vegan-airplane-breakfast" from coming back up again.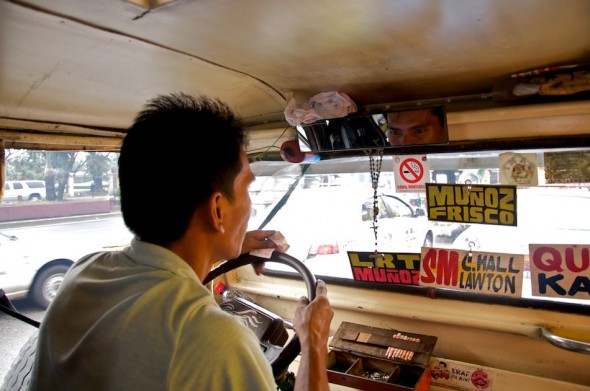 We arrive at the hostel after an hour of driving, all limbs intact. The thick, moist, air of metro Manila hits us like wall. A mixed scent of greenhouses, soil and pollution is ever present. Crossing the street after we get out of the cab seems to be quite an accomplishment in itself. The traffic scene in Manila is far from great, crossing the street is more of the "keep-your-fingers-crossed" kind since proper road-crossings and traffic light are pretty much non existing.
The hostel in Quezon City was far from glamourous. Located in one of the poorer regions of Manila. With a construction site and rooster farm as our closest neighbors we we're in for quite an experience. We had booked a room with private bathroom, but I'm not sure if it constitutes as a bathroom. Lacking basics as sink, toiletseat, toiletpaper (not a single sheet available throughout the hostel) but complete with bucket, faucet and a large plastic spoon, it was pretty hardcore.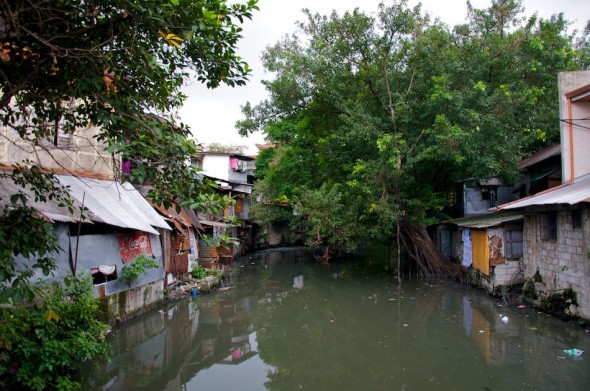 For obvious reasons we ended up leaving early next morning for Makati, where we found an excellent accommodation for a decent price. Makati felt like paradise compared to the previous hostel.
After been spending a week in a slightly more upscale hostel, the Quezon stay had proven to be an important experience in exposing us to the local differences that makes up Manila. Just when you think you got the city figured out it throws you off guard and you're back where you started. You may be walking down the streets of downtown Makati with upscale hotels, luxurious malls, fashionable restaurants then turn down a side street and be met by people living on the streets, stray dogs and rooster and street stalls.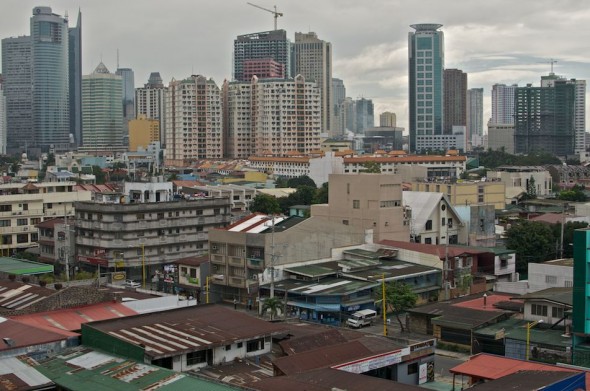 Enough writing
Time to get lost in the streets again…